Earlier this year, residents of Desborough, Northants reported a visit from fake energy salesmen before discovering strange chalk markings on their property. It made national news as a number of mysterious chalk markings were left on houses.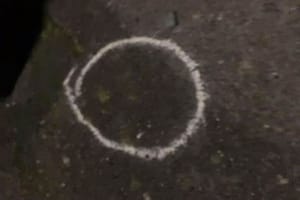 After the news went national, many people around the country began to report similar markings on their properties after visits from cold callers. This method is often associated with burglaries and has also been linked to dog thefts in the past six months.
Gemma Smallbones (Desborough) says she discovered the marking after answering the door to a man claiming to be from supplier Utilita. A spokesperson for Utilita confirmed that they had not sent a representative door-to-door.
She said: "He was telling me that I was paying too much electric on my pay as you go meter. I told him that I don't have pay as you go and I pay monthly, then he seemed to be in a rush to go."
"He was acting strangely, stood really close to the pane of glass in my front door like he was looking through it, he didn't step back when I opened the door."
"He made me feel uncomfortable so I just wanted to get rid of him. When he had gone I checked outside and found the chalk marking and this made me feel petrified for my family and my dogs. Obviously we had been targeted for something but we don't know what."
The Gemma added: "There are lots of other people who had the same person come to their house in the area but only three of us had markings that I know of."
"One of them said her neighbour had CCTV of two men and it wasn't the man that came to my address. But they could be working in gangs."
Thanks to the CCTV footage from the neighbour, police were able to start tracking the criminals, and the footage proved invaluable in the investigation.
Another resident noticed the white markings on their doors and fences.
"I have no idea when the markings were put up, but it was yesterday at 2:30pm I saw a dodgy bloke hanging around the back of the houses," she said.
"I saw a man acting suspiciously wearing black trousers and a black sweatshirt wearing a lanyard and holding something. He had no business being at the rear of the properties, if he was genuine he would be knocking on the front door!
"Also, he avoided looking at me and turned to the side when I tried to get a good look at him at the end of the drive, but I did take note that he wasn't a young man. I found one marking then another later on when I got back from the school run."
Sarah Sharpe, also from Desborough, also had a knock at the door.
"He says he's from Utilita," she said. "He was very persistent and would not leave when I told him I had to leave to take my son to nursery. He then came back twice even though I said I wasn't interested."
Northamptonshire Police said: "We gave crime prevention advice and asked the caller to call us again if they see the same people in the area again. We would advise the same to anyone who notices suspicious activity in their area and to ensure that their houses are left safe and secure at all times."
The CCTV footage of these events was shared with the police and the neighbourhood. The community was made aware of the cold callers who disappeared from the area as they began to be challenged by the locals.
A visible CCTV system is both a deterrent to criminals, and any footage captured will help the police in their investigations. Keep your property safe with a security system from i-spy cctv.