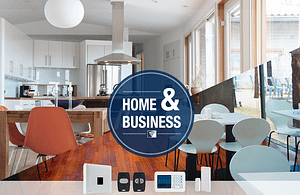 If you search on Google for "CCTV installers near Bristol", you may come across several companies offering CCTV Installation in Bristol but which company do you choose? Let's take a look at CCTV installation with i-Spy and the benefits this will bring.
CCTV Installation Bristol with i-Spy
– CCTV Installers you can trust
At i-Spy, we put a premium on quality in everything we do. You can count on us to provide exceptional standards of service and outstanding customer care from the first client contact at the specification stage all the way through project completion.
Along with installing CCTV systems, we also specialise in other aspects of residential and commercial security that are accessible to residents of Bristol, Bath, and the other cities in our service area mentioned above. For example, i-Spy can supply and install intruder alarms, security lights, intercom systems, security locks, and other types of security measures.
You can get professional guidance from our skilled security system installers on how to increase the security of your home or place of business. In order to strengthen the security of schools, farms, nursing homes, and other facilities, we have expertise and know-how implementing CCTV, intruder alarms, and security locks.
i-Spy is prepared to support and safeguard your belongings. Please get in contact with us right away if you have any questions about our burglar alarms, CCTV security cameras, other security systems.
CCTV systems for your business
We at i-spy CCTV are experts at offering business CCTV installation Bristol. Our goal is to make your commercial space as safe and private as we can by utilising the most recent surveillance technology.
Business CCTV systems are a fantastic way to increase security at your location because they not only deter crime but also come in handy in the unfortunate event of a break-in. At i-spy CCTV, we offer a variety of systems and can fully customise them to meet your needs.
Your CCTV cameras can be monitored remotely, so if you work from home and want to keep a watch on your office space, these are perfect. All of the pictures that your cameras record will be kept on your DVR (Digital Video Recorder), and given how frequently police use CCTV footage in their investigations, these could be extremely helpful.
Benefits of installing a CCTV system for your home
Installing a home CCTV system can have several benefits, including:
Security
A visible CCTV system can discourage burglars and intruders from attempting to break into your home or property, as they are aware they may be caught on camera. In the unfortunate event that a crime does occur on your property, CCTV footage can provide valuable evidence to law enforcement agencies, which can aid in identifying and prosecuting the perpetrator.
Increase security even more with our intruder alarms
It can be intimidating to choose the best intruder alarm for the security of your home and place of work. There are so many various alarm kinds, businesses, prices, and terms and conditions to evaluate. Because Visonic & Ajax are renowned developers and producers of top-notch electronic security systems and components, we only supply and install wireless alarm systems from them in order to make that decision for our customers simpler.
Peace of mind
With a CCTV system, you can remotely monitor your home or property from anywhere, using your smartphone or computer. This can give you peace of mind when you are away from home, and allow you to check in on children, pets, or elderly family members.
Increased property value
Installing CCTV in Bristol can increase the value of your home or property, making it more attractive to potential buyers.
Overall, a home CCTV system can provide an added layer of security and peace of mind, making it a worthwhile investment for many homeowners.
CCTV installation Bristol – Summary
UK CCTV installations are very important to help safeguard your home or business. Not only do they provide evidence in the event of damage or theft but they also act as a deterrent which prevents a lot of crime from happening in the first place. Call us today for a free quote and get yourself protected.
Areas We Cover
Although our headquarters is located in Bristol, our security installers can offer you expert security systems within an 80-mile radius in the following counties: Devon, Somerset, Dorset, Hampshire, Wiltshire, Berkshire, Oxfordshire, Gloucestershire, Worcestershire, Herefordshire, South Wales.