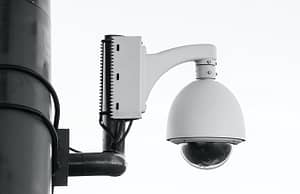 CCTV technology has been in use since the 1940s when it was first used by the military in Germany to monitor rocket launches. However, it wasn't until the 1960s that CCTV began to be used for commercial and public safety purposes. Let's take a look at modern CCTV installation in Cirencester and why CCTV is beneficial.
CCTV installation Cirencester
The first large-scale use of CCTV was in the United Kingdom in the 1960s, where it was initially used to monitor traffic on major roads. The technology continued to evolve over the years, and by the 1980s, it had become widely used for security and surveillance purposes in public places such as banks, shopping centers, and airports. With the advancements in technology, modern CCTV systems have become even more sophisticated and versatile, with features such as remote access and facial recognition.
Why choose i-Spy as your specialist CCTV Company?
At i-Spy, we put a premium on quality in every security system we install. From the moment we first speak with a client during the specification stage until the project is finished, you can rely on us to deliver exceptional levels of service and outstanding customer care. Our security installers can provide you with professional security systems within an 80-mile radius of our Bristol office.
In addition to CCTV installations, we also specialise in other aspects of residential and commercial security that are accessible to those in Bristol, Bath, and the regions covered by i-Spy as described above. These additional security measures include intruder alarms, security lights, intercom systems, security locks, etc.
You can get professional guidance from our skilled CCTV installers on how to increase the security of your home or place of business. In order to strengthen the security of schools, farms, nursing homes, and other facilities, we have expertise and know-how to implement CCTV, intruder alarm systems, and security locks. Why wait? Contact an i-Spy CCTV engineer today for a free quote.
What is CCTV?
CCTV stands for Closed Circuit Television. It is a video surveillance system that uses video cameras to transmit signals to a specific set of monitors, typically for security and surveillance purposes. Unlike broadcast television, which is available to anyone with a compatible receiver, CCTV footage is only available to authorized users who have access to the surveillance system.
CCTV installations are often used in public places such as banks, airports, and shopping centers, as well as in private residences and businesses, to monitor and record activity in real time. CCTV footage can be used for a variety of purposes, including crime prevention, identification of suspects, and employee monitoring. With the advancements in technology, modern CCTV systems often come with features such as motion detection, facial recognition, and remote access, making them even more versatile and useful.
CCTV at home
Home CCTV systems can provide a range of benefits, from improved security to peace of mind, and can be a valuable investment for your property:
Improved security – One of the main benefits of installing CCTV at home is increased security. CCTV cameras act as a deterrent to potential burglars or intruders and provide evidence in the event of a break-in.
Peace of mind – Knowing that your home is being monitored by CCTV can provide peace of mind, especially when you are away from home for extended periods.
Remote monitoring – Many modern CCTV systems allow for remote monitoring, which means you can view footage from your smartphone or other devices. This can be especially useful if you want to check on your home while you are away.
Insurance discounts – Some insurance companies offer discounts for homeowners who install CCTV, as it can reduce the risk of break-ins and theft.
Evidence in legal proceedings – If a crime does occur at your home, CCTV footage can provide valuable evidence in legal proceedings.
Monitoring children and pets – CCTV can also be used to monitor children and pets, providing peace of mind and ensuring their safety.
CCTV Installation Cirencester for your business
We at i-spy CCTV are experts at offering quality CCTV solutions. By utilising the most current surveillance technology, we hope to make your office as secure and private as we can. We provide a variety of systems at i-spy CCTV and can fully customise them to suit your needs. If you work from home and want to keep an eye on your office area, your CCTV cameras can be monitored remotely. Your DVR (Digital Video Recorder) will store all of the images that your cameras take, and given how frequently police use CCTV video in their investigations, these could be very useful. As well as the benefits of home CCTV, CCTV at work has the following additional benefits:
Employee monitoring – CCTV can be used to monitor employee behavior, ensuring that they are following company policies and procedures, and not engaging in any inappropriate behavior.
Reduced theft and vandalism – CCTV can help to reduce theft and vandalism, both from outside intruders and from employees.
Improved customer experience – CCTV can be used to monitor customer behavior, providing valuable insights into how customers interact with your business and helping to improve the overall quality of the customer experience.