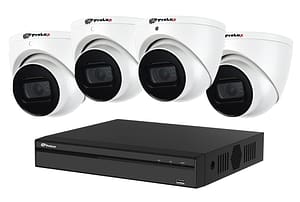 CCTV Cameras & CCTV Installers in Gloucestershire & Bristol
Affordable CCTV Installers near Gloucester & Bristol
Are you looking to up your security with a CCTV Installation Gloucester & Bristol areas or advice on the best cameras for a CCTV system to protect your property?
I-spy is a Bristol-based CCTV company dedicated to ensuring the installation of the best CCTV systems in Gloucester, Bristol and surrounding areas.
I-Spy the Leading Gloucestershire & Bristol CCTV Installation Company
When choosing a company to install CCTV cameras for your Gloucester or Bristol property. At I-Spy we are renowned throughout the South West of England for our professionalism, & reliability. As a Bristol-based CCTV company, we cover most of S/W England and South Wales.
Protect your Property with CCTV Surveillance
Did you know most burglars and thieves stay away from properties that are protected with CCTV? Whether it's a camera to protect your car on the driveway or a complete CCTV system installed in every room on your property. I-Spy will have the perfect affordable solution to deter thieves and unwanted visitors from entering your property.
CCTV Is Now a Necessity
Gone are the days of just locking your property up without worrying. Thieves are becoming more adventurous and are not deterred by locks or alarm systems. If you live in Gloucester or Bristol, you will be aware that crime statistics are on the rise and that a good CCTV system is paramount.
In the unfortunate event property is comprised and items have been stolen, having quality CCTV footage will help the police in catching the criminals and securing a conviction.
CCTV Systems & Cameras
At I-Spy we have a wide choice of quality cameras & systems suitable for both Bristol businesses and homes. Every property is different and needs a different set-up as to where cameras are placed for complete coverage.
Quality CCTV Systems for Home & Business in Bristol & Gloucester
At Bristol-based I-Spy we have the latest range of CCTV solutions for both residential and commercial properties in and around Bristol & Gloucestershire.
Every Closed circuit system we install can be monitored remotely. If you are away from your premises you have access to every camera installed and can view in real-time exactly what is going on.
Remote Closed Circuit TV Viewing
No matter where you are in the world as long as you have internet access you can view your property 24/7 by using a laptop, PC or smartphone.
Residential CCTV Packages
To give you an idea of what's available, check out our website page under the tab CCTV for home. Here we showcase our range from 5MP right the way up to 4K CCTV packages. Each system shown has a Demo tab showing the camera in action and the clarity you can expect.
Commercial CCTV Packages
Closed-circuit TV protection for added security for any type of commercial Bristol business is a must in today's climate. Our aim at I-Spy is to make your premises as safe and secure as possible by using the latest surveillance technology.
Bristol-Based I-Spy CCTV Benefits
Bespoke-designed CCTV for your property
Our CCTV are suitable for both indoor and outdoor usage
We guarantee every CCTV system for 3 years
Motion-activated recording which extends the storage capacity
Automatic day time & nighttime switching modes
Each system can be expandable if you want to add more camera coverage
Up to 30 days of CCTV recording capability
CCTV Installation in Gloucester & Bristol
Once a system has been chosen we at Bristol-based I-Spy make installation a breeze. All of our Bristol-based technicians are highly trained, qualified and experienced.
CCTV Maintenance & Service
Bristol-based I-Spy doesn't just sell CCTV we offer bespoke maintenance and service plans to ensure all systems are working correctly.
Depending on our customer's requirements we can conduct frequent maintenance & service checks or annually. Whichever security systems you choose for complete peace of mind
Free Quote
Why not contact our Bristol head office and book a free quote to get the ball rolling? One of our helpful Bristol team members will arrange for a specialist CCTV technician to visit your property at your convenience.
As a Bristol-based company, I-Spy covers an 80-mile radius from its Bristol base. Which takes in areas such as Gloucester, Bristol, Oxfordshire, Wiltshire, Herefordshire and South Wales.
For further information get in touch with our Bristol head office, either by giving us a call or using our website contact page.