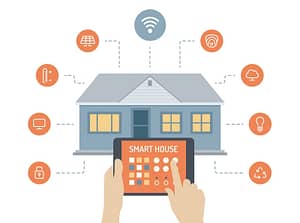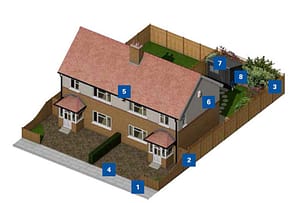 The Leading Company for CCTV Installation Worcester Area
If you are living in Worcestershire, a question you may ask is, who offers the best CCTV Installation Worcester area? As the leading UK CCTV installations and CCTV suppliers. I-Spy installers have delivered top-quality installations of CCTV in homes and businesses the length and breadth of the UK.
To boost security Worcester area, I-Spy is now offering clients CCTV cameras Worcestershire area at very competitive and affordable prices.
Benefits of CCTV Installations in Worcester
Without a doubt, a CCTV security installation system is beneficial on many fronts. As CCTV installers, I-Spy are the top CCTV installers Worcestershire area.
CCTV installations offer numerous benefits that contribute to the safety and security of residents, businesses, and public spaces. We have outlined the importance and benefits of CCTV installations below.
CCTV Offers a Deterrent and Prevents Crime in Worcester
One of the primary benefits of CCTV installations is their deterrent effect on criminal activities. The presence of visible commercial and home CCTV cameras acts as a powerful deterrent to potential offenders. Criminals are less likely to target areas that are monitored by CCTV systems, knowing that their actions are being recorded. As a result, the overall crime rate in Worcester has been greatly reduced since our CCTV installations, making the community a safer place to live and work.
Enhanced Monitoring and Surveillance with CCTV Worcester Areas
CCTV installations offer live video feeds of the regions being watched. This makes monitoring and surveillance by security staff or property owners possible and effective. Suspicious actions or security breaches can be quickly identified by keeping a close check on the area. Remotely viewing the CCTV feeds expands the surveillance possibilities and makes it possible to keep an eye on your property constantly.
Installation of CCTV System for Evidence Gathering
Our CCTV systems & installations are essential for capturing evidence in the event of accidents, crimes, or disputes. CCTV cameras can record video footage that can be used as important evidence in investigations and court cases. CCTV footage can give an unbiased and accurate record of situations, helping to identify offenders, shed light on the course of events, or settle disputes.
Deter & Prevent Anti-Social Behaviour with CCTV Installations
The installation of a CCTV system discourages antisocial behaviour in public areas. Vandalism, graffiti, loitering, and other disruptive behaviours are much diminished in places where CCTV security systems s are present. CCTV on a property promotes a safer and more peaceful society. A commercial or residential CCTV camera system will increase public awareness and promotes responsible behaviour.
Summarisation of CCTV Installations
CCTV installations on your property as you have read, offer many benefits, such as providing real-time monitoring and surveillance, gathering valuable evidence, ensuring employees and customers and safety at home.
Contact I-Spy today to find out about our innovative crime detection & crime prevention surveillance technology. Which has all been geared to make living in your area a lot more secure and nicer.
Affordable Systems & CCTV Installations
As a business or homeowner investing in residential or commercial CCTV security is a must. A Worcester CCTV system with installations of multiple security features is more affordable than you probably think. Our technologically advanced security systems and CCTV installations offer no end of benefits.
We don't just do Installations of CCTV Worcester Systems
At I-Spy, as the leading CCTV installations experts, are capable engineers will carry out CCTV maintenance Worcester area. It doesn't solely have to be on one of our own CCTV installations. We can carry out maintenance and advise on other CCTV installations from other companies.
Although please bear in mind our own CCTV installations are covered by a guarantee, other CCTV installations will be charged a maintenance fee.
Get In Touch
If you are interested in learning more about I-SPY CCTV Security, you can visit our website or contact us by phone or email. Whether you want to upgrade existing CCTV cameras in your home or require new CCTV security systems. Talk to us, we offer a premium Worcester CCTV installation service and CCTV cameras using the latest technology.