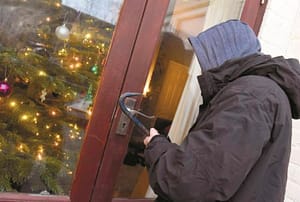 Christmas is the busiest shopping time of the year and many of us have our homes stocked with the latest electronic gadgets, jewellery and must-have gifts. Unfortunately, thieves see Christmas differently as your gifts provide them with an increased incentive to commit burglaries! It's time to look at home security systems and other methods to protect your festive valuables
Here are our top 10 tips to keeping your home, gifts and loved ones safe this Christmas.
Home Security at Christmas: Tip 1
Deterring would-be criminals is one of the most effective forms of crime prevention. Investing in a motion sensor flood-light or even some outdoor Christmas lights to highlight your home's exterior. This often makes approaching your home too conspicuous for a burglar. It's always worth highlighting the fact your possessions are security marked and you have a CCTV or alarm system with window decals provide a further warning that your goods are traceable, your home is secure and monitored and not worth the risk of stealing from.
Home Security at Christmas: Tip 2
A common mistake with setting up festive decorations is to feed extension cables through partially open windows. Criminals know to look for this vulnerability and will not hesitate to take advantage. When it comes to outdoor lighting, opt for solar or battery operated lights or install outdoor electrical outlets.
Home Security at Christmas: Tip 3
You should always dispose of gift packaging carefully. Rubbish collections over the Christmas and New Year period are normally at different times. If it's not possible to take packaging to a recycling centre, make sure you only put your rubbish out just before the collection and do your best to break apart and fold boxes inside-out so that thieves can't see the new festive additions to your home.
Home Security at Christmas: Tip 4
Be careful not to advertise your home to burglars on social media. Recent studies find that social media is unsurprisingly a commonly used tool for scouting potential targets. Often a family will publish their whereabouts during the holiday season. This can let burglars know when your house is going to be empty. You should avoid posting about your latest Christmas gifts, especially if they are of value. By posting expensive gifts to your Facebook profile you are providing a criminal an opportunity to scout your home and compile their own Christmas list!
Home Security at Christmas: :Tip 5
Check all your doors and windows for weak spots including sheds and outside buildings. Government statistics show that 30% of burglaries happen through windows. Installing a few dead-bolts and new window hinges could increase the security of your home exponentially. Many alarm system will not set if your windows are open, and I-Spy CCTV can give your property a full risk assessment.
Home Security at Christmas: Tip 6
Keep your curtains, drapes and window blinds closed at night and always make sure valuable items are out of sight. When going out for the evening make use of inexpensive timers to give the illusion of occupancy,. You should also consider leaving a radio on, motion detector lighting, and home security systems from I-Spy CCTV.
Home Security at Christmas: Tip 7
If you're going away at Christmas make sure to cancel newspapers and other subscriptions. If possible, arrange for a neighbour to park on the driveway as this helps create an impression someone is home. And never leave overtly descriptive telephone answering machine messages detailing your plans for the festive period.
Home Security at Christmas: Tip 8
As mentioned before, don't forget to secure garages and sheds. Make sure that garden tools, ladders or anything that could be used to force entry into your home is not left lying around or accessible. The tools in an unlocked garden shed are just as useful to a burglar as they are to you. Garages are often targets for burglars looking for tools, bikes and gardening equipment. Always make sure the garage is locked and your possessions are secured, and keep your bikes locked even when they're at your home. Keep these areas safe with home security systems, outdoor lighting and a CCTV from I-Spy CCTV
Home Security at Christmas: Tip 9
Burglars know to look for hidden door keys so don't hide spare keys under rocks, in flowerpots, above door ledges or under mats. Give the spare key to family or trusted neighbour. Many houses these days have alarms, many though are rarely set, make sure yours is on and protecting your home when you are away and overnight if possible.
Home Security at Christmas: Tip 10
And finally, if in doubt, give us a call. Our team can visit your property and assess your security needs. With many years experience, we can provide you with a full home security package that won't break the bank but will provide you with the piece of mind that your Christmas will be safer with an I-Spy CCTV, alarm system and home security systems.
We hope that you find these tips useful and encourage you to share them with your family, friends and colleagues. As always please remain vigilant and report suspicious activity immediately to the police on 999 if a crime is in progress, 101 in a non-emergency or Crimestoppers, anonymously on 0800 555 111. And have a great Christmas!